Mucho Burrito's bright, colorful and guest-centric design concepts are reflective of its fresh take on Mexican food that is fast, fun and flavorful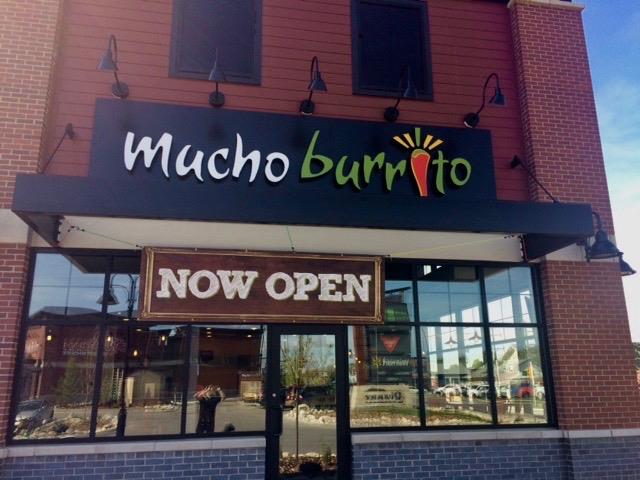 Mucho Burrito's two franchise models — food court and inline restaurant — both deliver on bright, colorful and guest-centric design. From the moment guests enter a freestanding Mucho Burrito restaurant or walks up to a mall counter, they are treated to a clean, contemporary surrounding that beautifully incorporates Mexican-inspired design featuring reclaimed wood and natural brick.
This is just one way Mucho Burrito stands out in the crowded Mexican food franchise arena, which is why it has grown to more than 140 locations across Canada. Investors seeking a fresh opportunity to capitalize on American consumers' love of Mexican food can see that Mucho Burrito is not your typical Mexican food concept, offering up the same combo platters and predictable décor. Instead, Mucho Burrito, new to the U.S. market, is a Mexican-inspired, fresh restaurant concept featuring unique flavors and stellar customer service in a sleek, colorful setting.
"Mucho Burrito is a concept that appeals in virtually any location," says John Delutis, Brand President in Canada. "Mucho Burrito benefits from two very strong dayparts, with a variety of menu items that lend themselves to various eating occasions. Mucho Burrito's innovative cuisine and eye-catching visual appeal also draw in curious consumers and once they have tried the food, they become loyal guests."
Low-cost investment opportunity ready for U.S. expansion
Mucho Burrito franchise owners can be successful in food courts, thanks to a well-designed model that is designed to offer a full menu with minimal staff. This model is ideal for entrepreneurs who are looking to start on a smaller scale as it doesn't require a separate dining area, yet still offers the engaging interaction between employees and guests as they work together to create the perfect entrée. The in-line model is great for the franchise owner who wants to really make an impression on the community, as well as capture in-store and catering revenue.
A Mucho Burrito franchise is an affordable investment opportunity that offers high growth potential. Estimated start-up costs range from $268,260 – $630,500, depending on the model.
"In Canada, we are the market leader for franchised Mexican-inspired restaurants, and we plan to maintain, strengthen and grow that leadership position in the United States, where it is a much more competitive market and there are a lot more players," Delutis says. "Our points of differentiation are our menu, our innovation, the flavors we put together and the way that we display the food. I think all that gives Mucho Burrito a competitive edge. This is an incredible opportunity to get in early with a new brand in a thriving marketplace."
Bring a new and unique Mexican food franchise to your community today
For in-depth details about the Mucho Burrito franchise opportunity, download our Free Franchise Opportunity Report. You also can learn more by visiting our research pages.