What Is A Mucho Burrito Franchise
Dynamic business capitalizes on consumers' ongoing love of Mexican food
First, let's talk about what Mucho Burrito franchise is not: just another Mexican food concept offering up the same combo platters and tired décor. Instead, Mucho Burrito is a Mexican-inspired, fresh restaurant concept featuring unique flavors and stellar customer service, all offered in a sleek, colorful setting.
In the crowded Mexican food franchise arena, Mucho Burrito stands out — which is why it has grown to more than 125 locations across Canada in a decade. The brand succeeds because it believes healthy food can taste good. In fact, not sacrificing flavor or quality to produce great food is at the centerpiece of the brand, says John Delutis, Brand President.
"We've got curated menu products, and we also have 'create your own' options that are popular among millennials in particular. We really serve all facets of different demographics in the marketplace. It's all about the food, fresh product, theater. Franchise owners can cook, grill and amaze the guests with fantastic food every day."

—  Norm Pickering, Senior Director of Marketing
Fast, fun, flavorful food that tastes good and meets consumers' dietary desires
"We are proud that we don't make customers pick between good taste and good for you," Delutis says. "There are a lot of customers out there looking for what we offer: terrific food that they are happy to serve their families. We are a market leader for franchised, Mexican-inspired food because of that simple concept, which is only enhanced by our great support system."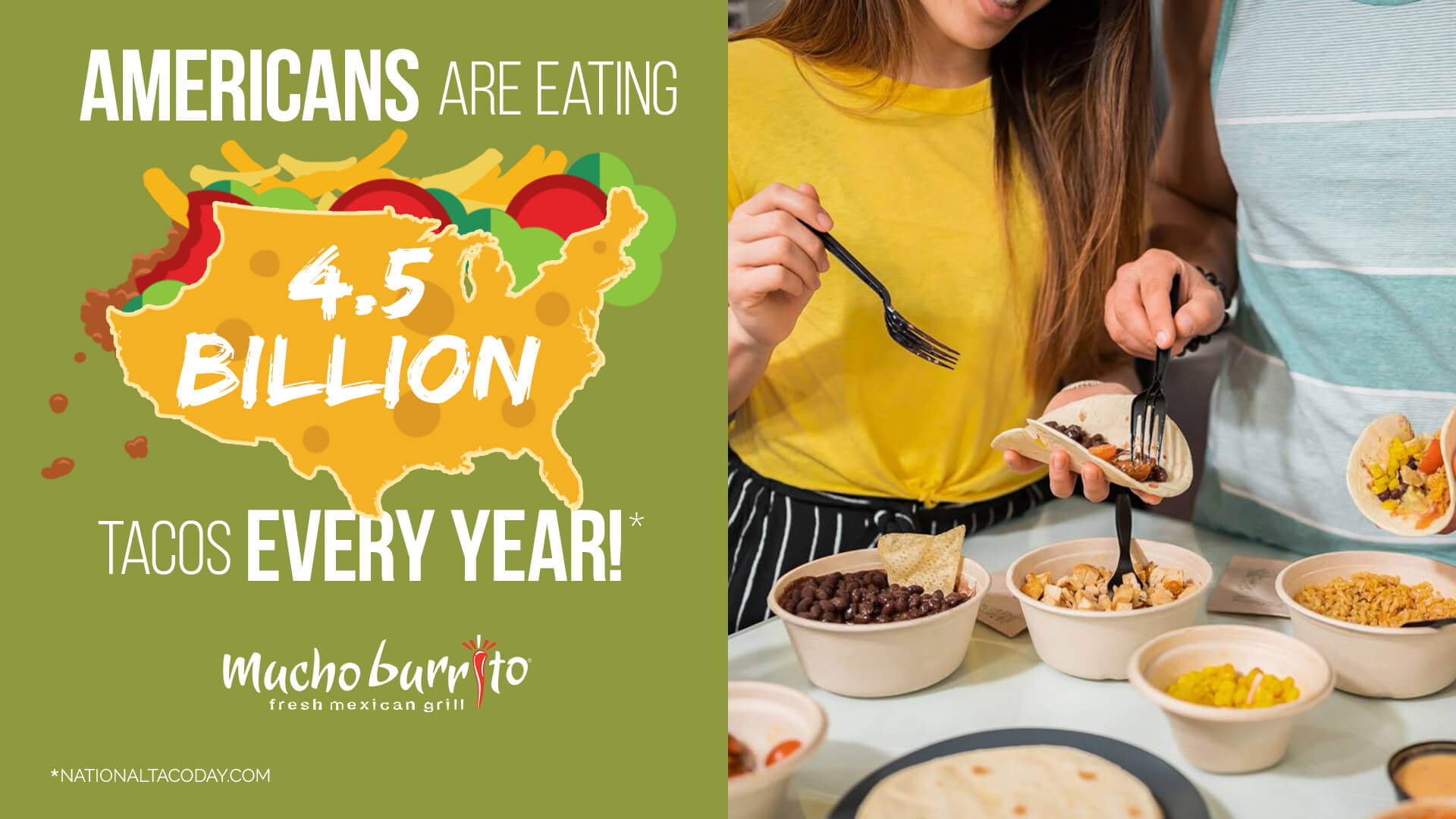 As the Mucho Burrito franchise opportunity enters the United States, where CHD Expert says Mexican establishments command 9% of the restaurant market, Delutis says the brand is poised to not only compete, but immediately set itself apart.
"In Canada, we are the market leader for franchised Mexican-inspired restaurants, and we plan to maintain, strengthen and grow that leadership position in the United States, where it is a much more competitive market and there are a lot more players," Delutis says. "Our points of differentiation are our menu, our innovation, the flavors we put together and the way that we display the food. I think all that gives Mucho Burrito a competitive edge, and I think franchise owners can take advantage of that. This is an incredible opportunity to get in early with a new brand in a thriving marketplace."
Bring a Mucho Burrito Mexican food franchise to your community today
A Mucho Burrito franchise is a low-cost investment opportunity that offers high growth potential. Join this dynamic brand as it enters the United States in 2019. Estimated start-up costs range from $361,000 – $659,500, depending on the model you choose. We have been expanding in Canada since 2006, thanks to a business model built for entrepreneurs who are passionate about bringing a reimagined, fun and flavorful Mexican food experience to their communities.