The Enduring Popularity Of Mexican Food
Build an exciting business offering a new approach to this timeless cuisine
Mexican food is hot — and we don't mean spicy. As a market sector, Mexican dining establishments represent 9% of all restaurants in the United States, according to CHD Expert, and that domination isn't going away anytime soon. Statista says that more than 233 million Americans used Mexican ingredients or products as part of their diet in 2017, so the fan base is already there. All you have to do is capitalize on it.
Mucho Burrito offers a different take on the white-hot Mexican food sector. It blends the timeless appeal of spicy, flavorful tacos and burritos with unique new ingredients. Mucho Burrito franchise customers interact with employees as they customize their orders, watching them all come together in a colorful, fun presentation. The result is an engaging, entertaining and satisfying dining experience that customers won't find anywhere else in town.
"This is a fabulous time to become a Mucho Burrito franchise owner because our food speaks for itself," says Norm Pickering, Senior Director of Marketing. "We are a fresh Mexican grill. The products in franchise restaurants are freshly handmade; we've got nothing to hide. Our products are real. They're all-natural. And guests are actively seeking restaurants and brands that uphold this promise."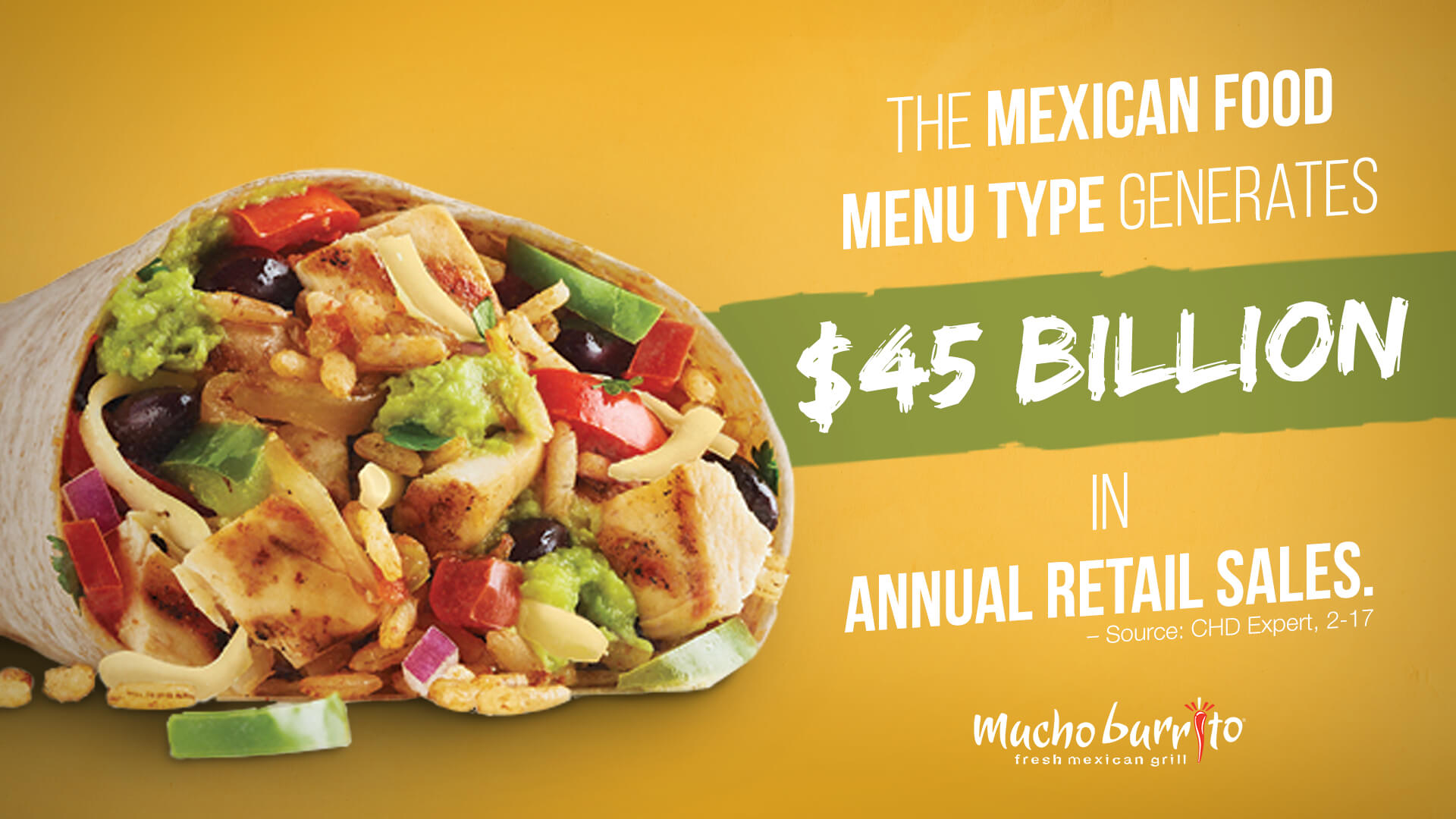 Bring a new Mexican food franchise to your community today
A Mucho Burrito franchise is a low-cost investment opportunity offering high growth potential. Join this dynamic brand as it enters the United States in 2019. Estimated start-up costs range from $425,000 – $845,500, depending on the model you choose. We have been expanding in Canada since 2006, thanks to a business model built for entrepreneurs who are passionate about bringing a reimagined, fun and flavorful Mexican food experience to their communities.